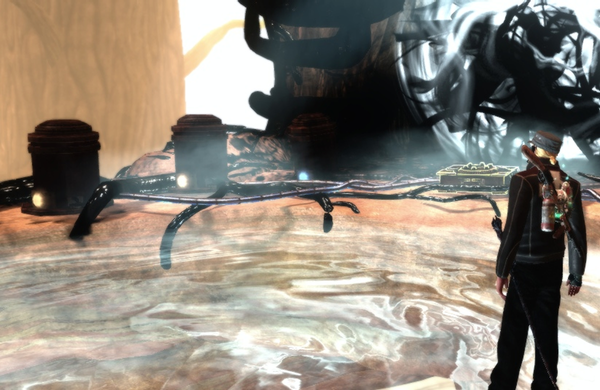 By this time, during Phase 1 of The Whispering Tide Event, the canisters were all full, the portal was open, and the battle against the Tendrils of Dis was raging. This morning I was going to take a new screen shot (as I'd planned yesterday morning as well), but there has been no progress since Saturday morning. The shot above was taken two days ago, and things look exactly the same this morning, only there was no one but me standing on the platform.
When this event began, I inwardly marveled at the genius of the mechanics. Over a year into the game's lifecycle, and with an admittedly lacking crafting system, Funcom found a way to get all those stockpiled high level materials out of players' banks and into the marketplace. Most of it seemed to get dumped into the event, but a lot of it ended up on the Auction House as well. Once the initial deluge of stored mats was exhausted, players went out into the world to farm more, either to advance the event or line their pockets (no judgements, either is a valid strategy in my opinion … me, I advanced the event; I'm not really strapped for Pax).
When this current phase began, it seemed poised to repeat the same pattern with the new set of mats. However, available evidence seems to suggest that, after that initial offloading of stored Pure Fire and Dust, the community has reigned in their desire to farm more to advance the event. It's had me thinking, since yesterday, that perhaps the carrot at the end of the stick just doesn't seem as juicy anymore, especially given that that carrot got more expensive this go around. Further, how will this affect the event overall given that very shortly attention will be pulled away from it towards The Cat God and The Stories From Solomon Island? And finally, is it Funcom's intention for this phase to be a very slow burn (we can't really see progress meters on the canisters, so maybe it's just taking a lot more to fill them than before)?
I honestly don't know the answer to any of these questions. I do know that my own personal attention will be pulled away. I missed The Cat God event the first go around, and I'm really excited about getting a chance to do it. The Stories From Solomon Island also sounds like a load of fun; that zone is second only to Transylvania as my favorite. Getting to learn more about all the weirdness going on there is definitely a carrot I'm willing to dig for.
So, it begs the question: will this current phase of The Whispering Tide just trundle along, with the canisters slowly filling as players here and there continue to feed the event while focusing much of their attention elsewhere, or will it reach critical mass and explode into some new, as yet unseen phase (that possibility actually sounds kind of exciting)?
The good news in the end is that there will be no shortage of things to do in game for the foreseeable future. I just really wish that, at the moment, it wasn't such a grind (and that, as a Panoptic Core, I was earning some damned AP/SP for all this vampire slaying I've been doing).
---