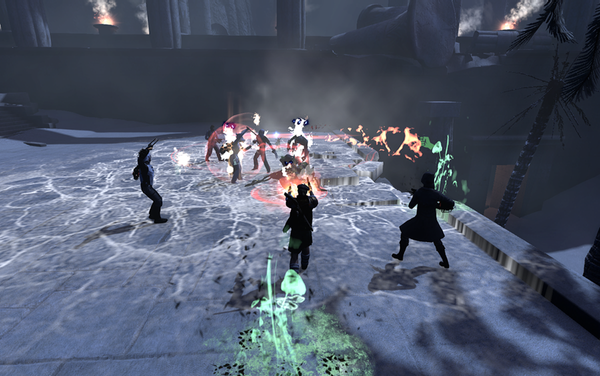 This past Secret Monday saw the Knights of Mercy knee deep in Lairs once more. This time, after our trouncing by the Motherpod in the Kingsmouth Town Lair, we decided to try the Lairs in Savage Coast and Scorched Desert. While giggles and laughs were had by all, we were once again stymied by the third quest in each Lair leading us to think that we must be missing something obvious.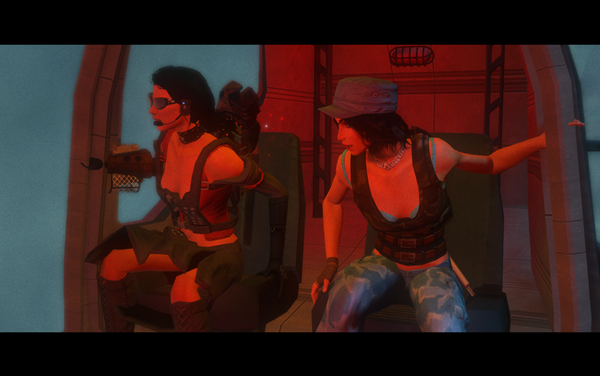 Before I launch into all that, I wanted to toss up the obligatory chopper shot, with a quite immodest Solaris (Mark, knees!), from Polaris. Last TORsday, at the end of the night, a few of us jumped from SWtOR to TSW to run JayeDub through normal Polaris and Hell Rising. He's not as far along the dungeon progression as most of the rest of us are, and we're helping him get caught up. Plus, those two dungeons are just fun on the bun.
Back to the Lairs … We have run three of them now: Kingsmouth, Savage Coast, and Scorched Desert. In all three, thus far, the first two quests have given us little to no problems. Admittedly, the hateful glancing mechanic in Kingsmouth is a pain, but nothing we couldn't overcome. The problems start when we unlock the third quest and attempt that one. We didn't retry the fight against the Motherpod in Kingmouth, though I think when we do we'll try it with two tanks. The Savage Coast fight, in the Spring, didn't go any better though (despite trying that one with two tanks). We ended the night by finishing up the first two quests in the Scorched Desert Lair, and calling it a night without attempting the third quest.
Like MMOGamerChick, I have this sinking feeling we're missing something obvious, and like her, the lack of any useful information out on the intertubes about the Lairs and their mechanics makes me think it's something other folks aren't having problems with. But, the Knights of Mercy will soldier on. If it's one thing that The Secret World is awesome at is challenging you in ways you might not expect. We'll keep throwing bodies at this thing until we figure it out.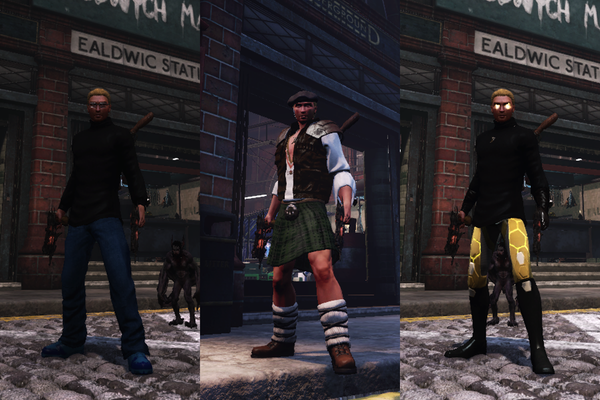 In an attempt to assuage our streak of getting our asses handed to us last night, there were several costume changes (hey, clothes matter). For What Chucho Wore I give you, from left to right, The Steve, They'll Never Take Our Fritos, and The Bee's Knees. I thought for sure the kilt would turn our luck around …
---