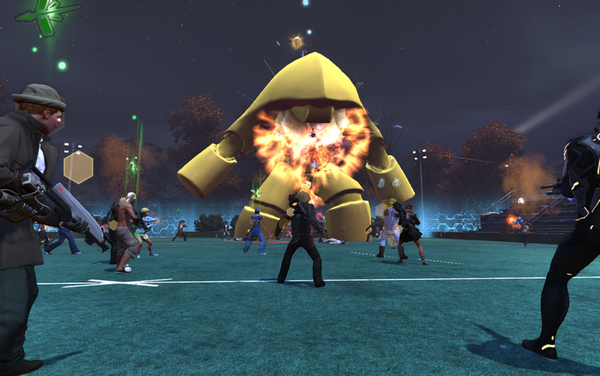 Today I logged into The Secret World in hopes of getting the last piece I needed for the Shem of Solar Metal. I've been participating in the Gilded Rage Event, off and on, since it started over the Golden Weekend this past weekend. For those that didn't see my previous post, or hadn't heard about it, the Gilded Rage Event is very similar to the Anniversary Event, but there's only one Golem and he's basically a giant golden piñata of goodies.
Over the weekend, and for Secret Monday, I farmed Goldie Brawn to the point that I had won all his of drops except the Right Arm of the Shem of Solar Metal. You need six total pieces to assemble the pet (which you do in the crafting window) and earn the achievement (which also earns you a gold top hat in addition to the pet). The last fight I did, which earned me the piece I needed, was in the basketball court of Innsmouth Academy. Only in The Secret World would you find yourself battling a giant gold Golem, sent by Gaia to destroy mankind, in the deserted basketball court of a New England private school overrun by ghosts. Seriously, it was awesome.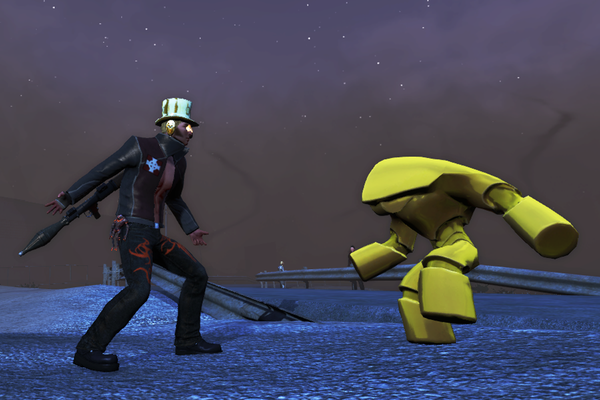 It definitely made for a spectacular fight worthy of being remembered as the fight that earned me the last piece of the mighty, but puny, Shem of Solar Metal. With his addition, I have all of the Shem offered thus far. While I have really enjoyed both the Anniversary and Gilded Rage Events, I do hope this is the last we see of Gaia's Guardians rampaging across The Secret World. Time to fight some Filth Dragons, I say!
---