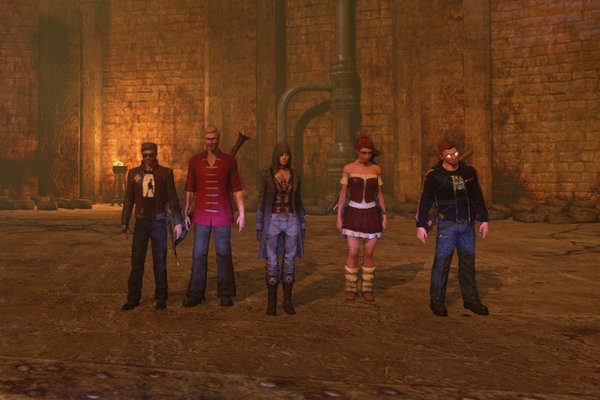 This Secret Monday our main Tank and her husband, the main Healer, were off galavanting around Martha's Vineyard or some such (seriously, they aren't allowed to take vacations anymore), so I once again had to drop into the roll of Tank. I feel like mostly I'm more of an Armored Personnel Carrier, though … I might be mistaken for a Tank from far away, but, good lord, I ain't foolin' nobody up close.
Rowan dropped into Heals and did a hell of a job considering he threw his deck together moments before we stepped into Hell Fallen Elite. Syp, Sctrz, and Ocho brought the pain with their DPS and we did awesome so long as I wasn't losing aggro and letting people die. We even one-shotted the Molten Golems, where we usually wipe several times. The Engine Tyrants, however, gave us quite the bit of trouble … my greatest challenge there seemed to be grabbing and holding aggro on the first pair of adds; I'd scoop them up and then one would teleport away and kill Rowan. After about 15 tries, though, we got them down.
The last boss only took us three tries, and I'm still convinced there was something I was not doing. I don't recall there being that many electric bubbles the many times I've DPSed that fight. I tried impairing Electric Smoke Grenade, but that didn't seem to do much of anything. In the end I think it was the DPS that pulled us through that fight, slaughtering the boss in short order before everyone died. I actually died right after the boss because I couldn't find my way out of the Electric Bubble Maze (which, by the way, is the name of my new band).
Still, it was an awesome night, and we got Ocho and Sctrz one step closer to facing the Gatekeeper (not to mention snapping up a sweet skin for Syp's hammer). In honor of the upcoming re-release of The Cat God quest chain, I wore my Cat God t-shirt, Templar jacket, black jeans and boots. Since you can see the outfit up at the top, I thought I'd throw in this screen shot I grabbed earlier in the week. Seriously, I don't understand the folks who say The Secret World is an ugly game … what screens are they looking at?!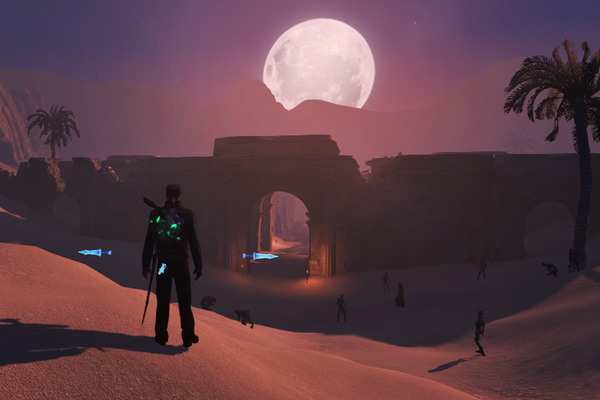 ---