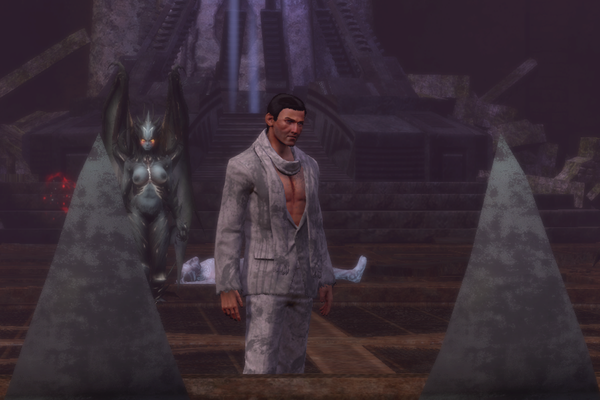 This Secret Monday saw my first official stint as a Tank, and boy are my arms tired; set up and punch line all in one breath. Oh, I've tanked in other games, and I even tanked a few of the Guardians of Gaia during the Anniversary Event, but tanking an honest to goodness Elite Dungeon is a whole other ball of very hot, very bloody wax.
The Knights of Mercy have been steadily working their way towards running Nightmare mode Dungeons. In order to do this, in The Secret World, all potential participants must first complete all of the Elite mode Dungeons, and then defeat the Gatekeeper in single combat. A couple of folks still needed one last Dungeon, Hell Eternal, so we decided to try to knock it out quick. Our usual tank and healer weren't yet on (Mogsy and Mr. Mogsy, let me say … respect), so Pid decided to throw on his healing deck, and I my tanking deck, and away we went.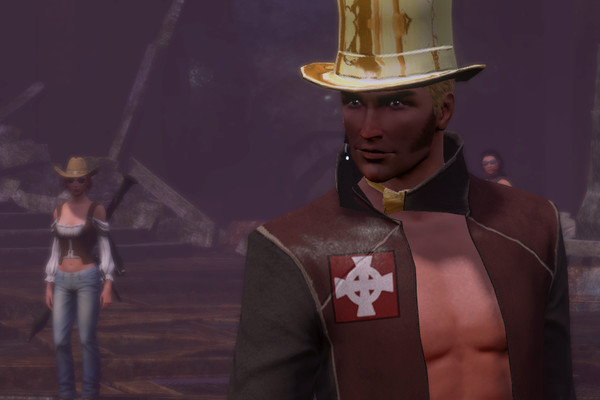 The Archaean Seismocratist was no sweat; I was even all good tank and led the way to him without having to fight any trash. Then we faced the Lustrehunter. I kept losing aggro and he would immediately turn to the healer and one-shot him. See, this is how The Secret World works; it lulls you into a false sense of security. Still, after a bit of gear rearranging, and a couple more tries, we downed him and moved on to the Prime Maker. He too gave us quite a bit of trouble, more so than the previous boss. The mechanics weren't the difficulty, we just seemed to keep losing too much DPS along the way to be able to kill him in time. Again, I'm pretty sure this was due to something I was or was not doing. This only became more evident, to me at least, as we slogged our way past the Prime Maker and on to the others.
There isn't much in the way of utility in my tanking deck; I have only one real interrupt, on a very long cool down, and no purges. This is something I'm going to have to look at more closely. I have the whole skill wheel unlocked, so there has to be something I can add. In any event, despite my shortcomings, we downed Flagellatrix Superior on our first attempt, though we subsequently wiped to the Piston Predators because I moved us too slow through the maze and they caught up to us. Thank god the folks in KoM are patient; I'd hate to think of the noise I would have heard had this been a pug.
The next trio of bosses, Iscariot, Cassius, and Brutus, gave us trouble as well. In this case it was both a mix of mechanics (I hadn't run this dungeon in quite some time so my explanations of the fights were sorely lacking), and shortcomings in utility actives on my part. We first tried killing Iscariot, then Brutus, then Cassius, but my inability to purge Cassius' shield proved a huge hinderance. The several tries it took us to learn that, though, also got us all familiar with the mechanics, so when we next tried a different kill order, Iscariot, then Cassius, then Brutus, they went down in short order.
Finally, we reached the top of the tower where Eblis was waiting for us. This fight, more than any others in this dungeon, is about positioning. I'm sad to say it took me longer than it should have to learn where best to drag that bastard of an angel so that his fire wouldn't overwhelm us all.  We actually had him close to dead several times, but then we would all die, instantly, due to some invisible insta-kill ability that wasn't even showing up in the combat logs. Once I learned where best to move him and that I could interrupt his knock-back AoE, though, things got real. I started saving my one cool down for that, and he fell in the next couple of tries. Also, Pid put his Speedo on, and we're all pretty sure that was the deciding factor.
Despite all the difficulties, I had a really awesome time. It was really cool to be able to face all these learning experiences with a group of great folks. I'm fairly certain now that, at least gear wise, I'm good to tank. Going forward, if I ever have to do this again, I'll definitely try to study up on the coming fights; knowing where to move a boss and what might need to be purged or interrupted seemed to be the bread and butter of the whole thing (I know, DUH, right).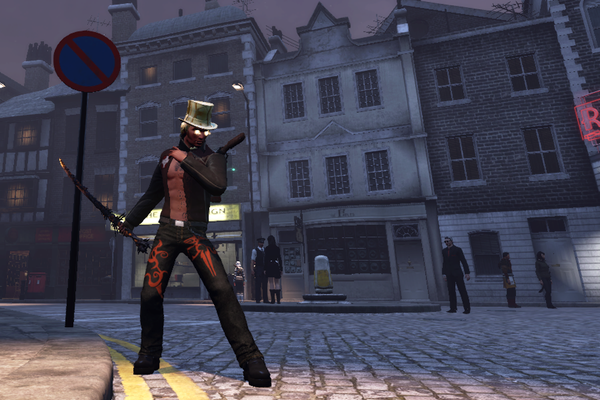 This week in What Chucho Wore, I went with my gold top hat, headphones, and bow tie, from the Gilded Rage Event, my templar jacket, fancy black badass jeans, and heavy black boots. It seemed a fitting outfit for tanking, plus the gold hat made me easy to spot.
---