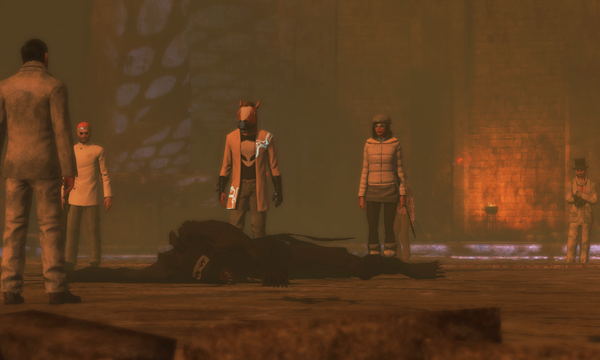 Once again, Wicker lead the Knights of Mercy into the bowels of Hell to rush to the aid of his poor, defenseless Demon friends. This time he took us to the crumbling, vaguely Steampunkish Hell Fallen (Elite). As is our usual modus operandi, we mowed down the first couple of bosses, and then we faced the Engine Tyrants, Prime and Alpha. These guys gave us a bit of trouble, but after figuring out the fight (and jumping out of the instance to clear the invisible debuff), we mowed them down and moved on.
We slaughtered the next two bosses and then ran into the Iron Catastrophe, the Molten Xenolith, and the Primitive Melt. Again, once we figured out the fight (and cleared the debuff) we took them out no problem. The final boss, The Ascendant, only gave us a touch of trouble before he too joined his fallen brethren and left the Knights of Mercy bloody, sweaty, but victorious. I managed to snap a good shot of the whole group (though Syp is hiding behind Mogsy) during Wicker's final monologue.
All in all, a very fun and successful evening. I believe all the group has left to complete, to unlock the Gatekeeper, is The Slaughterhouse (Elite). I think we may be trying that one, again, next week.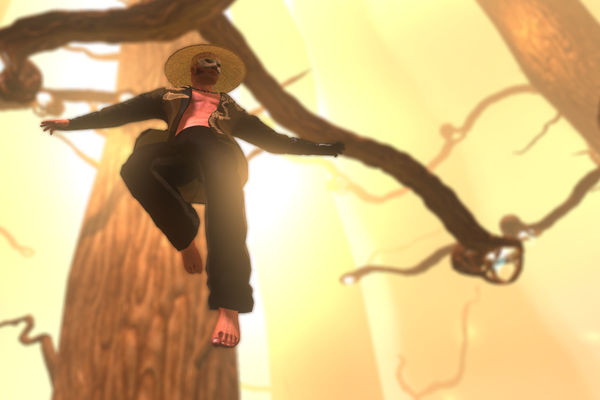 Despite my rather horsey appearance in the first shot, for most of the night Chucho wore an outfit I've dubbed, The Discordant Samurai: Conical Hat, Venetian Mask, Discordant Coat, Ritual Necklace, Bare Chest, the gloves from the Future Steam outfit, and black Athletic pants and no shoes. I figured such and outfit deserved a properly anime pose, so I jumped off the main platform in Agartha and snapped the one above while free-falling.
---