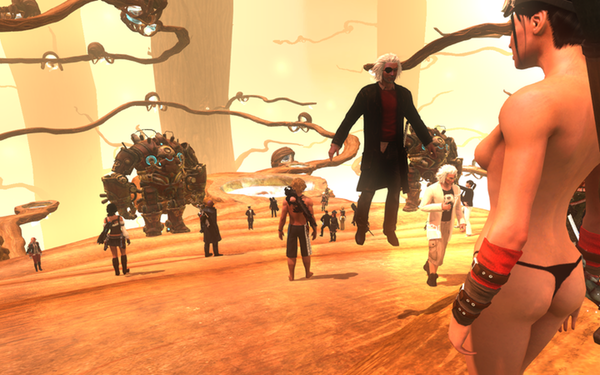 If you're like the poor young lady up there, making guys FLOAT with her nudity (I couldn't resist using this shot as the header for this article … her clothes not displaying is a bug, and the fact that that guy is floating was a perfect lead in to free t-shirts), there are still some t-shirt giveaways floating out there on the internets that you can get in on if you act fast. Who doesn't want new shirts for their Bee?
The shirts in the image gallery above were currently still available in limited quantities as of yesterday. Some of the sites require that you sign up, or even 'LIKE' them on Facebook to get a code, so which ones you go after all depends on how much work you're willing to do (just like anything else). Below, you'll find specific details on how to get each one, and at the end you'll find the steps needed to put the codes you get into the game. Much of this information is available all over the TSW Forums and other fan sites, but it was scattered and hard to piece together, so I decided to put it all here. Enjoy.
Alienware
All you have to do is visit the link below, and follow the instructions there. You will have to sign up for an account on the website, but it's free to do so.
http://www.alienwarearena.com/giveaway/the-secret-world-alienware-tshirt-giveaway/
Buffed.DE
This one's really easy. Nothing to sign up for. Just a free code. It worked for me, but your mileage may vary. Here's the code:
SWBUFFEDTSHIRT
CSICON
Another free and easy code:
TSWCSICONTSHIRT
MMORPG
Like Alienware, this one will require that you have an MMORPG account. Also like Alienware, if you don't have one, it's free to set one up. Just follow the link below. By the way, this one gets you two shirts (one white and one black).
http://www.mmorpg.com/giveaways.cfm/offer/357
MMOZ.PL
This one is a little tricksey; it's a Polish site and most of it is actually in Polish (duh). I've also read warnings about possible virus infection from the site, but I didn't get any pop-ups on my virus alerts (and it is up to date), and have noticed no ill effects (I also visited the site from my Mac). This is the one that requires that you authorize the site through Facebook, and then 'LIKE' them there. Easy-peasy, really, and you can de-authorize them once you have your shirt. Following the link below will take you to their page. At the bottom are instructions in English.
http://tsw.mmoz.pl/koszulki-mmoz-w-grze.html
Now, what are you supposed to do with all the codes you just picked up? Just follow the steps below:
Go to your Secret World Account Page.
Log In.
In the bottom left, enter the code in the field under Key Registration, and click Register.
Click Upgrade Subsciption [YOUR USERNAME].
Click Confirm.
The shirts will show up in your Claim Items tab in the In-Game Item Store.
And that's it, you're done. As I said, these giveaways are in limited quantities. Some or all may no longer be available, but I was able to pick them all up yesterday. Happy hunting, and good luck!
---